---
103 Mac Beth Drive, Lower Burrell, PA 15068
(724) 334-1985 sewstore@hotmail.com
The
S
S
ewing
tore
Est. 1996
Store Hours:
Tuesday 10-7 P.M.
Wednesday 10-5 P.M.
Thursday 10-5 P.M.
Friday 10-5 P.M.
Saturday 10-4 P.M.
Sun/Monday Closed
Serving the Pittsburgh area as an Authorized BERNINA Dealer since 1996
The Sewing Store
Software Sampler is a pre-recorded webinar conducted by the BERNINA Education Team. Ten lessons will be presented that will show how BERNINA Embroidery Software 7 can be incorporated into every embroidery project. When you come in the store to watch the webinar with us, you can have questions answered and see samples made from the current lesson. This is a wonderful class for anyone who owns the software, whether beginner or advanced. You will leave the class with a CD so you can review the lesson on your own time. Cost per session is $10.

Buy the entire year of classes and receive 20% off all stabilizers and Isacord thread through December 31, 2015.

Topics for 2015 Software Sampler

February ~ Digitize a Logo

Discover some basic digitizing techniques while we create an embroidery design working only from a poor quality graphic. (That never happens! :-0) Working with small lettering will also be covered.

March ~ Blooming Bliss Quilt

Design a "jellyroll" quilt project and coordinating quilt patterns using BERNINA Embroidery Software 7, Artwork Canvas and Quilter program.

April ~ All Geared Up

Use the tools in Art Canvas to create "gear" shapes for unique quilting and appliqué patterns.

May ~ Flower Show

One design can have many embroidery options. Learn to create lightweight embroidery, appliqué and more.

June ~ I Was Framed

Learn to work with photographs in Artwork Canvas and print them on Transfer Artist Paper or printable fabric. Then create appliqué frames to stitch around the printed pictures.

July ~ Make Mine Plaid

Create plaid effects in many different ways: grid quilting, pattern run stitch designs, wavy plaid and plaid effects with fill or appliqués.

August ~ appliqué 3 Ways

Explore the options of each appliqué style: raw edge appliqué, cut in the hoop appliqué and pre-cut appliqué.

September ~ Going in Circles

Work with the beautiful outline stitches in the software as well as create your own stitch patterns from scratch. Manipulate the stitches to create beautiful circular pattern stitch embroideries.

October ~ In-the-Hoop!

Create a Pencil Pouch project to embroider in the hoop. Work with fonts, embroider the zipper and quilting completes the project.

November ~ Coming Up Roses

Everything will be coming up roses as you learn to create stitches using the free-hand drawing tool using a photo as a template - no artistic skills needed. Explore the option of adding needlepunch for additional color.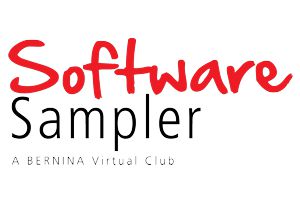 Software Sampler